Julia Ciccone is a specialist portrait artist based in St Ives Cornwall.
She paints beautiful portraits of both people and animals.
For animal portraits she works in oils and can work from good quality photos.
For portraits of people she works in oils or pencil - from a good quality photos, a sitting or both.
Julia can be commissioned for anniversaries, birthdays, Christmas and other special occasions (please give 3-4 months notice).
She also has a range of prints available - both open and limited editions.
This site features a selection of her work - see the galleries listed above.
Get in touch if you would like to commission a portrait of a favourite person or pet.
Email Julia to buy prints from this site.
You can visit her gallery in St Ives to see her working on her latest commissions.
You'll find Julia in Studio 7 at The Harbour Galleries on St Ives waterfront.
You can also email for appointments:
juliaciccone@hotmail.co.uk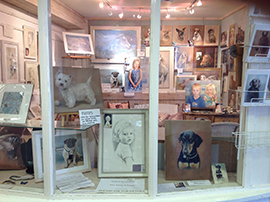 Julia Ciccone - Harbour Galleries St Ives